4 rolls Magic Blackout Blin - Nursery blackout blind, travel blackout blind & portable blackout blind
Magic Blackout Blind - Get more sleep 
NEW Formula - More Static For Extra Strength - Guaranteed to stick to windows and not fall off
Blackout Blinds Summer SALE. BEST VALUE Magic Blackout Blind - Only £20 each 
Buy 4 rolls of Magic Blackout Blind for £80. Next Day Delivery
Magic Blackout Blind ™ - All in One - Nursery blackout blind, travel blackout blind and portable blackout blind.
100% No Light Blackout Blinds.
Stops more light than Gro Blind & Gro Anywhere Blind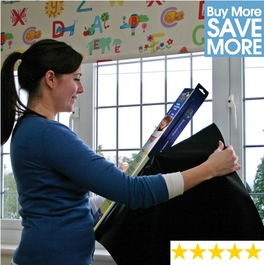 Magic Blackout Blind ™ - The only blackout blinds guaranteed to stop all light - even around window edges. Magic Blackout Blind ™ is quick and easy to fit, tear off a sheet and place on the window. Magic Blackout Blind sheets are reusable (they last for months) and can be cut to size to fit any windows.
Watch Magic Blackout Blind ™ being tested and reviewed on TV -
VOTED best blackout blind that stops all light
4 rolls of Magic Blackout Blind ™ - 40 A1 perforated sheets (60cm by 80cm) - 32 metres
Best nursery & baby, travel and portable blackout blinds
Easier to fit than Gro Anywhere Blackout Blind, no suckers and fits exact size of window.
Sheets can be overlapped to cover larger windows
32 metres by 60cm
Clings using static to inside windows - leaves no marks
Stops all light - even round window edges
Quick and easy to fit, tear off sheets and place on window
Reusable blackout blinds (usually lasts more than 12 weeks if used daily)
No tools required
Cut to size with scissors if required
Portable & lightweight bedroom blackout blind - ideal for travelling with children
Use with or without curtains to darken any room
Magic Blackout Blind is a kids and children's blackout blind. Magic Blackout Blinds stops ™ all light even round the window edge to darken bedrooms. Voted best blackout for windows.  
Magic Blackout blind ™ can be safely applied to normal single glazed or double glazed windows, the type you would find in a house or office.
DO NOT APPLY Magic Blackout Blind ™ to laminated glass, windows that are strengthened with wire, textured or patterned glass, triple plane glass, Velux windows or similar roof lights. These windows have been specifically constructed and require their own blinds or window covering.       
See frequently asked questions for more information and Safety Information on home page.