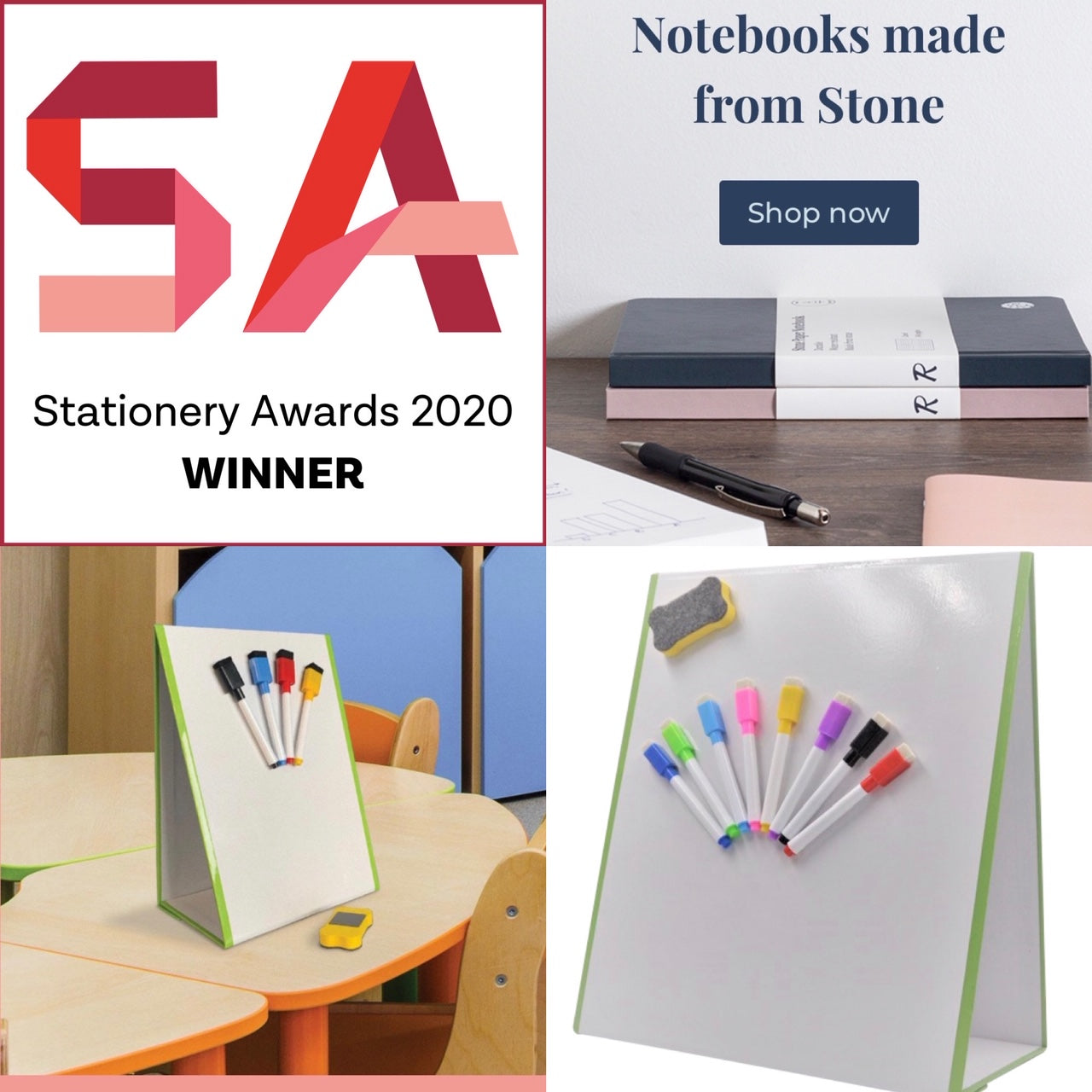 🏆 Stationery Show Winner 2020 - Magic Whiteboard Tree Free Notebooks & A3 and A4 Tabletop Whiteboards
Stationery Show Winner 2020 - Magic Whiteboard Tree Free Notebooks
We are delighted to announce that Magic Whiteboard has won the Stationery Awards 2020 - Best Eco Product with our new Tree Free Notebooks, the paper is made of stone . This is an innovative product where the paper is made from recycled stone instead of tree pulp. Contact us at sales@magicwhiteboard.co.uk for more details.
BEST ECO STATIONERY WINNER STATIONERY AWARDS 2020 - MAGIC WHITEBOARD TREE FREE NOTEBOOKS
FINALIST BEST CHILDREN'S STATIONERY & FINALIST BEST DESK ACCESSORY - A3 CHILDREN'S TABLETOP MAGNETIC WHITEBOARD
We were a Finalist for Best Children's Stationery & Best Desk Accessory with our A3 Children's Tabletop Magnetic Whiteboard . These kids tabletop whiteboards are great fun and encourage learning through creative play.
FINALIST BEST ECO STATIONERY STATIONERY AWARDS 2020 - 100% NO SINGLE USE PLASTIC A4 TABLETOP MAGNETIC WHITEBOARD
Our new 100% NO SINGLE USE PLASTIC A4 Tabletop Magnetic Whiteboard was a finalist for Best Eco Product. We have removed all single use plastic from the packaging and the actual product.
This is the first stationery product to be certified to conatin 100% No Single Use Plastic in the UK.
These fun tabletop whiteboards are very popular with children and primary schools.