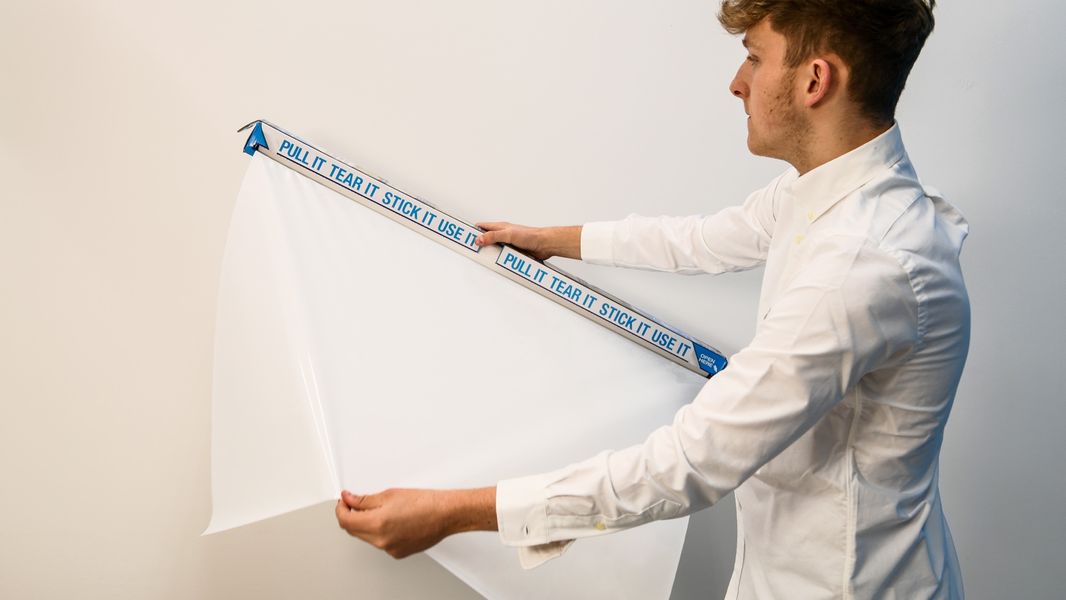 Magic Whiteboard Dragons' Den pitch labelled 'ridiculous' is now one of the most successful from the show
THE MAGIC WHITEBOARD has been labelled one of the most successful ideas showcased in the Dragons' Den as it has now become an office stable, sold all across the world.
Read the full story and watch Magic Whiteboard video
Order www.magicwhiteboard.com
The Magic Whiteboard, which the couple first created in 2006, is a roll of A1 whiteboard sheets that will stick on anything you want, all thanks to static.
The Magic Whiteboard is now "an office and classroom must-have".
In these times it is also "the perfect tool" for those regularly working from home.
In 2014, Neil and Laura regained full ownership of their Magic Whiteboard company.
By 2016 they had sold one million copies and their product continues to grow.
Neil and Laura Westwood have branched out into other innovative office supplies, including children's tabletop whiteboards, reusable sticky notes and 'tree-free' notebooks.
Originally the pair had wanted to sell 15 percent of their business for a £100,000 investment from the Dragons' but they managed to negotiate a deal.
Theo and Deborah each gave £50,000 for a 20 percent share in the business.
The investors got a £800,000 return on their £100,000 investment.
Neil and Laura said they wanted to give their children the shares to secure their future.
On how they got the initial idea for the business, Mr Westwood told BusinessLive: "I knew I wanted to start my own business.
"One day, when I was carrying yet another heavy flip chart to a meeting it suddenly dawned on me there must be a way of making it lighter."
Order www.magicwhiteboard.com