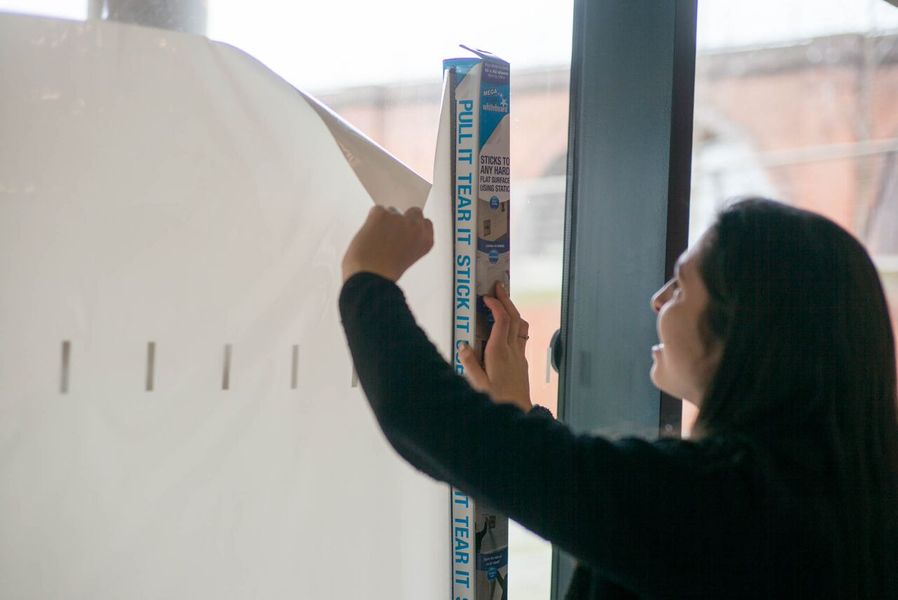 Magic Whiteboard Dragons' Den Pitch Peter Jones Called 'Ridiculous' Now One Of Show's Most Successful Products
As featured in Ladbible - read full story https://www.ladbible.com/entertainment/dragons-den-magic-whiteboards-peter-jones-ridiculous-20220207
Order Magic Whiteboard www.magicwhiteboard.com
Dragons' Den has had its fair share of weird and wonderful pitches, but a handful of the products on the show can actually go one to become household names.
And while the Dragons often have an eye for a solid investment, sometimes they can get it oh so very wrong.
Take the time Peter Jones labelled a product ridiculous, which then went on to be a staple in UK stationery stores and rack in £1.2m in sales. Awkward.
Yep, Jones was pretty scathing of husband and wife team Neil and Laura Westwood's pitch, branding it 'almost ridiculous' and adding 'why would I use this?'.
The Westwoods' pitch was for their magic whiteboard product - a roll of A1 whiteboard sheets that stick to anything due to static.
Their logic was that you sometimes don't know what facilities will be provided in a meeting room, so can come prepared with the sticky whiteboard sheets rather than having to plan on lugging a full sized whiteboard in with you.
Back in 2008, the couple from Worcester pitched the product to the Dragons, looking for a £100,000 investment in exchange for a 15 percent stake in their company.
Jones, however, was not impressed, saying: "Why would I go and carry that around in my briefcase?"
Laura tried to explain the gap in the market she and her husband were trying to fill, but Jones wasn't having it and he savagely walked up to the magic whiteboard they'd brought along to the pitch and wrote on it: "I'm out!"
Jones' fellow Dragons, Deborah Meaden and Theo Paphitis were a little more savvy, however, and reached an agreement with Neil and Laura to invest £50,000 each in exchange for a 40 percent combined stake in the business.
It turned out to be one of their most successful investments on the show.
Shortly after the Westwoods' appearance on the show, Paphitis - who is Chairman of Ryman Stationery - went on to stock the whiteboards in 230 of his company's stores.
Since then, the whiteboards have become a staple in office supply stores and schools, with the company exporting to more than 20 countries.
According to Business Live, sales soared from £45,000 to £1.2 million and in 2014, Neil and Laura bought out Theo and Deborah's shares in the business, giving the dragons a whopping £800,000 return on their £100,000.
We bet Peter's kicking himself for not getting in on the action himself!
Order Magic Whiteboard www.magicwhiteboard.com